If you look for an affordable way to improve the way you sleep, you should read this Haylee mattress review. This popular maker from Singapore builds memory foam mattresses that come with excellent customer feedback.
The Haylee mattress is a boxed one and it's sold directly to consumers. That allows the company to cut costs and offer these mattresses at competitive prices. After thinking about it for a while, I decided the time has come to order mine. Almost 10 days ago, it arrived at my doorstep so it's a good time now to move to the full review below.
What is the Haylee mattress made of?
The Haylee mattress features 4 layers plus the cover. In detail, these are:
An Aeroflo foam layer that is designed to keep the sleeping surface cool during the night. This layer features air vents that increase airflow.
A cooling gel memory foam layer that has the ability to reduce motion transfer. It can also provide your body with firm support.
A transition foam layer that optimizes weight distribution.
A high-density foam layer that works as the base of this mattress.
This mattress measures 25cm in height so it will fit your old sheets.

Is this a good cover?
One of the things I like about this mattress is its cover. It's made of bamboo fibres which is a material that has a number of great properties. Bamboo is naturally anti-bacterial and anti-dustmite. That means that it can provide you with a healthy and clean sleeping environment. Moreover, bamboo is odour-free which is important, especially during the summer months. Finally, bamboo is a sustainable material as it needs far less water to grow when compared to cotton. All the above, make the use of bamboo fibres a great choice and I couldn't agree more with it.
The cover is removable and machine washable so it will be easy for you to clean and maintain. In order to remove it all you have to do is unzip it. The design is a simple one and you should expect a white top with a dark grey bottom part. The sleeping surface feels soft and it features a subtle pattern. Overall, this is a high-quality cover that complements the mattress.
How firm is the Haylee mattress?
Let's continue now with this Haylee mattress review and talk about its firmness. Most boxed mattresses come with a medium-firm feel and the Haylee mattress is no exception. If I use my virtual scale here, I would say it's a 6.3 with 10 being really firm. Let's talk now about the performance of this mattress during the past week.

Starting from the back position, the foam layers did a good job hugging my shoulders and hips. This made me feel comfortable and I enjoyed sleeping this way. Support was great and my spinal alignment was correct.
Turning to the side position, the foam layers reacted quickly and that impressed me. There was no discomfort in the hips area and I felt well supported. The feel of this mattress is ideal for this position.
Finally, moving to the front position, I didn't feel very comfortable as the sleeping surface wasn't firm enough for this position. Having said that, people on the lighter side would be ok in this position.
If you share your bed with a partner, the Haylee mattress can be a great option as it has the ability to minimize motion transfer. That means you won't disturb each other during sleep. As for the edge support, it's average but this is normal for a mattress of this kind.
Will it be delivered for free?
One of the most impressive things about this company is the speed that they deliver. In some cases, you can have your mattress within 2 hours from the time you placed your order and that is simply amazing. In any case, you will get your mattress within a day and that is something that can't go unnoticed.
As I have mentioned before the mattress will arrive inside a carton box and it will be delivered directly to your door. Delivery is free so you won't have to spend any additional money to receive your mattress. I live in the Central District and I received my mattress within a day. The box came in great condition and the whole process was smooth. Communication was great and overall, I was satisfied with the service I got from them.
Can I try it first?
Many people don't feel comfortable buying a mattress online. The people at Haylee are aware of that so they decided to offer a 100-night trial period. That means that you essentially have more than 3 months to try this mattress at your home and decide later whether you want to keep it or not. If for any reason you don't feel that this mattress is the right one for you, you can return it and ask for a full refund. It's a simple process and they will arrange everything for you.
Moreover, every Haylee mattress comes with a 10-year warranty that will cover you for a long time. This is the standard these days with all these boxed mattresses but it's still something that we should value. Before you purchase your mattress, make sure you read the terms and conditions so you know what is included in the cover. Overall this is a complete package and Haylee did a good job here.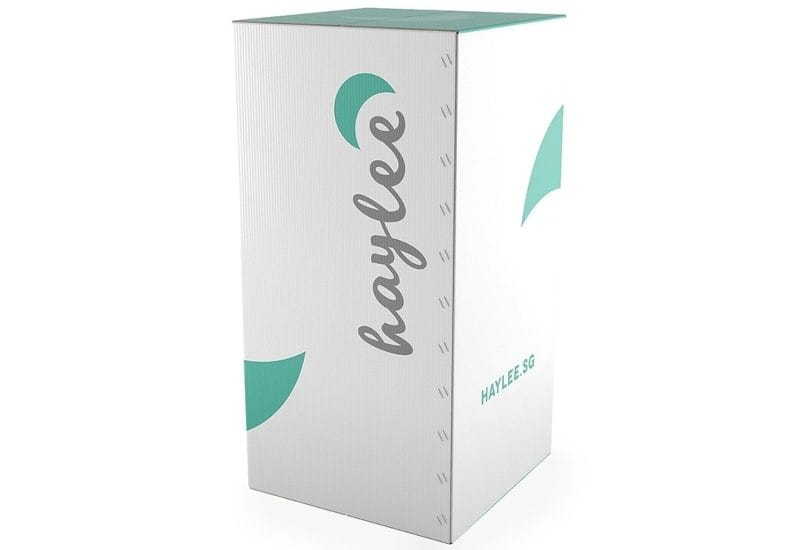 How much will it cost me?
The Haylee mattress is available in 4 sizes so there are plenty of options to choose from. The smaller size (Single) sells for $699 with the bigger (King) going for $1,079. However, the people at Haylee run frequent promotions so there is a high chance you will pay less than the retail price. For instance, at the moment of writing, there was a $200 off promotion. The table below has pricing information for all the available sizes.
| | | |
| --- | --- | --- |
| SIZE | DIMENSIONS | PRICE |
| Single | 190 x 91 x 25cm | $699 |
| Super Single | 190 x 107 x 25cm | $779 |
| Queen | 190 x 152 x 25cm | $899 |
| King | 190 x 183 x 25cm | $1,079 |
Is the Haylee mattress good for me?
This is a tough question, but I will do my best to answer it since I am about to complete this Haylee mattress review. In my view, this mattress would be a good option for anyone looking for:
A memory foam mattress that is great for back and side sleepers.
An affordable mattress that is built with great materials.
A mattress that comes with excellent service and support.
If this is what you look for, the Haylee mattress is an option you should consider. It's well-made and it's a mattress that is built for both couples and individuals. A high-quality option that won't break the bank.
PROS
Great materials
Minimal motion transfer
2-hour delivery service
CONS
Too soft for front sleepers