If you look for an affordable latex mattress, you should definitely read this Sonno Original mattress review. After seeing great success in Malaysia, they decided to launch in Singapore. Their first mattress (Original) is the better of the two and it features a foam-only construction.
All Sonno mattresses are packed inside carton boxes and they are delivered directly to your door. They don't use middlemen so they are able to have competitive prices. My Sonno Original was delivered almost two weeks ago so I felt ready to write this review.
What is this mattress made of?
The Original mattress features 3 layers plus the cover. In detail, these are:
A natural latex foam layer that adds comfort and allows airflow. Unlike other types of foam, latex can provide bounce too.
A memory foam layer that has the dual role of providing your body with the needed support and pressure relief.
A support foam layer that is designed to distribute weight evenly. This layer also works as the base of this mattress.
The Sonno Original measures 23cm so it comes with a medium profile. That means that your old sheets will be just fine with this mattress. All materials used to make this mattress are CertiPUR-US certified so they contain no harmful substances.
How good is this cover?
The cover of this mattress is made of Outlast® fabric. It's designed to regulate heat which is very important, especially when you live in Singapore. Besides that, it's also very breathable so your mattress will stay healthy for a long time. The sleeping surface feels very soft and the cover feels of great quality. The design is a modern one and the cover features a white top with a dark grey bottom. The Original mattress features a removable cover and you can hand-wash it if you want to clean it. Make sure you just use warm soapy water. Overall, this is a great cover and the people at Sonno did a great job here.

How firm is this mattress?
I would like now to continue with this Sonno Original mattress review and discuss its feel. This is a mattress that will suit most people and it comes with a medium-firm feel. If I use my virtual scale here, I would say it's a 6.8 with 10 being really firm. Let's talk now about the different sleeping positions and how this mattressed performed.

Starting from the back position, the sleeping surface felt comfortable but at the same time, support was good. My weight was distributed evenly and that allowed my spine to have a proper alignment.
Turning to the side position, the Sonno Original felt slightly harder than I would prefer but the support remained good. My spinal alignment could be better but it wasn't a major problem. If you don't weigh much, you will be fine in this position.
Finally, moving to the stomach position, the mattress felt perfect! The sleeping surface didn't cause any discomfort in the hips and shoulder area and my spinal alignment was correct. I can say that this should be among the top options for front sleepers.
If you are a couple, the Original mattress has minimal motion transfer so you won't disturb each other during the night. On the other hand, the edge support is average so you should be aware of it.
Will I get free delivery?
If you buy a mattress from them, you will get free delivery. They offer a very fast service so you should expect your mattress within 2 working days. Your Sonno mattress will be delivered inside a carton box and all you have to do is unpack it and let it decompress. After 24 hours, your mattress will be ready for use. In my case, the mattress was delivered 2 days after I had placed my order and the box arrived in excellent condition. The process was smooth and overall, I had a good experience with them.
Is there a trial period?
If you feel nervous about buying a mattress online, the good news is that the people at Sonno offer a 100-night trial period. That allows you to try this mattress first before you decide to keep it or not. In case you are not happy with it, you can return it and they will give you your money back. Moreover, all Sonno mattresses come with a 10-year warranty so you know that you are covered for a long time. Of course, make sure you read the terms and conditions so you know what is included. Overall, this is a competitive package and it's pretty much what we expect these days from a boxed mattress.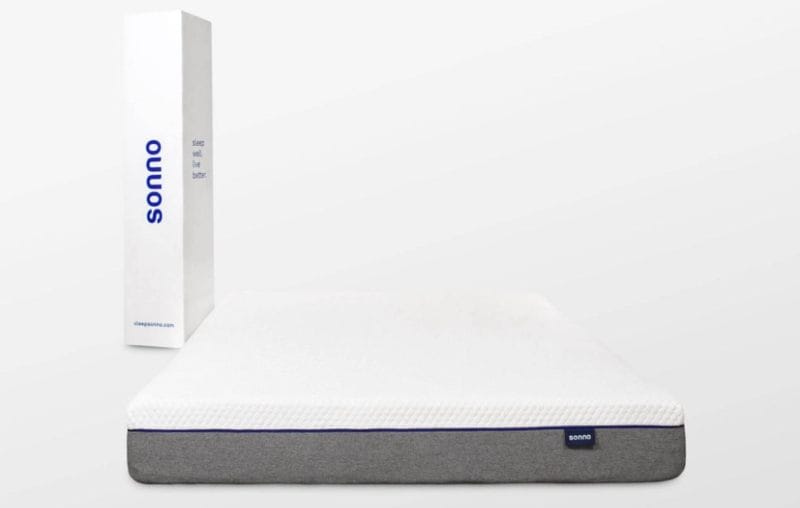 How expensive is this mattress?
The Sonno Original is an affordable mattress so you won't have to break the bank to get it. It's available in 4 sizes so you have a number of options to choose from. The smaller size (Single) starts at $799 with the bigger one (King) selling for $1,599. Having said that, Sonno runs frequent promotions so you will probably pay less than that. The table below has pricing information for all available sizes.
| | | |
| --- | --- | --- |
| SIZE | DIMENSIONS | PRICE |
| Single | 190 x 90 x 23cm | $799 |
| Super Single | 190 x 107 x 23cm | $899 |
| Queen | 190 x 150 x 23cm | $1,099 |
| King | 190 x 180 x 23cm | $1,599 |
Should I consider the Sonno Original mattress?
I will try to answer to the above question now that I am ready to complete this Sonno Original mattress review. In my opinion, this mattress would be suitable for anyone looking for:
A latex mattress that is ideal for back and stomach sleepers.
A value-for-money mattress that is built with great materials.
A mattress that comes with a 100-night trial period.
If you look for all these, the Sonno Original is an option you should consider. It's a well-balanced mattress that is fairly priced and that is not easy to ignore. Sonno managed to build a good mattress here and it's one I personally liked.
Sonno Original Mattress Review
PROS
Good value for money
High-quality materials
100-night trial period
CONS
Not ideal for side sleepers