If you live in Singapore, you have definitely heard of the HipVan brand. They offer a wide range of products but today I am going to focus on sleep. In this HipVan Levitate mattress review, I will talk about their best seller and whether it's an option that you should consider.
This is a truly Singaporean brand that was founded back in 2013. For the last decade, they have seen great success and developed a big range of products, including mattresses and furniture. I decided to get my hands on the HipVan Levitate mattress as I have two colleagues raving about it. Mine was delivered almost two weeks ago so it's time now to move to the full review below.
FREE DELIVERY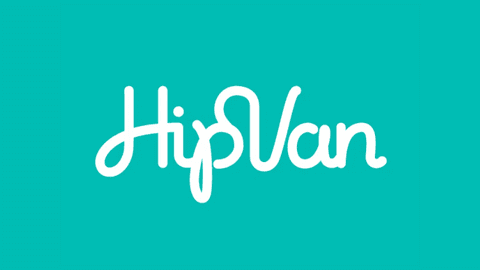 HipVan Mattress
Free delivery for all mattresses at HipVan
Free delivery for all mattresses at HipVan
Show Less
What is this mattress made of?
The Levitate mattress features 4 layers plus the cover. In detail, these are:
A latex layer that contours the body and increases comfort.
A memory foam layer that has excellent pressure-relieving properties. Additionally, this layer has the ability to distribute weight evenly.
A transition foam layer that connects the upper layers with the pocket springs. It also helps with structure and durability.
A pocket-spring layer that can support your body. This type of spring is designed to minimise motion transfer.
This mattress measures 30cm in height so it will remind you of a hotel-style one. To have a better view of the inside of the mattress, look at the image below.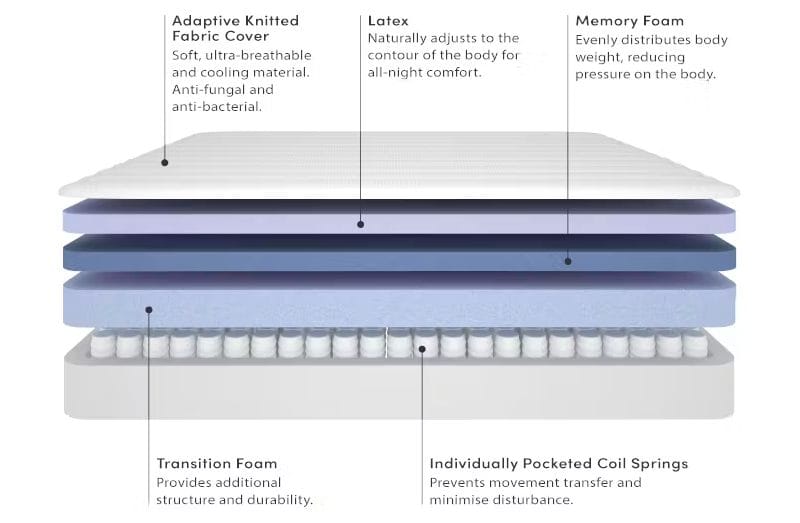 Is this a high-quality cover?
The short answer is yes! The Levitate mattress comes with a fantastic knitted cover that is breathable and has excellent cooling properties. Moreover, it feels soft to the touch and that gives it a more premium character. One thing I need to mention here is that this cover has an anti-fungal and anti-bacterial treatment which is important, especially for a country like Singapore that has a tropical climate. The design is a modern one and it features a grey bottom part and a white top part. Unfortunately, this is not a removable cover so if you need to clean it, you should use a cloth and some soapy water. Overall, this is a well-made cover that does the job.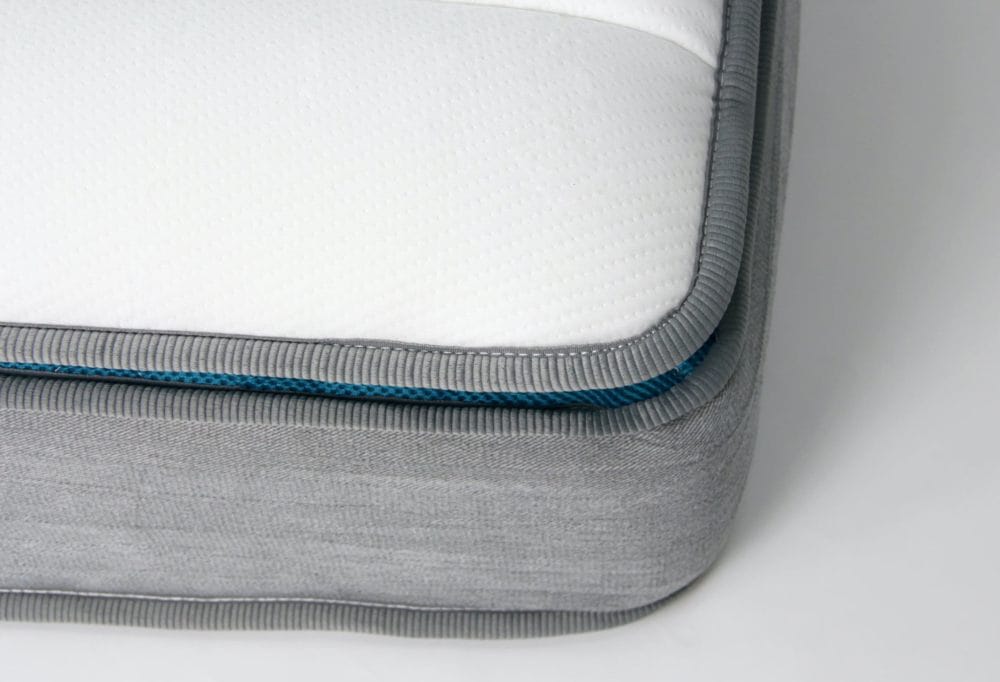 How firm is this mattress?
It's time now to continue writing this HipVan Levitate mattress review and discuss its feel. This one is designed for the average sleeper so it comes with a medium-firm feel. If I use my virtual scale here, I would say it's a 6.8 with 10 being really firm. Let's talk now about my experience with this mattress over the past two weeks.

Starting from the back position, the mattress hugged my hips and shoulders and I felt well-supported. It was comfortable in this position and the pillow topper did a great job with my back.
Turning to the side position, the pocket springs adjusted quickly and that allowed my spine to align correctly. There was no discomfort in the hip area and support remained adequate.
Finally, moving to the stomach position, I felt that the pillow topper wasn't ideal for this position. I would have preferred a firmer sleeping surface so if you are a front sleeper, you should probably look at another option like the Origin Hybrid Pro mattress.
If you sleep with your partner, this mattress is designed to minimize motion transfer so you won't disturb each other. Moreover, the edge support is good so you won't have any difficulty getting in and out of bed.
Will I pay for delivery?
If you decide to order a HipVan mattress, you will get free delivery that usually takes between 3-5 working days. If you have any unwanted furniture, for an extra fee the people at HipVan will disassemble it and dispose of it. To be more specific, for medium-sized items the cost is $20 and for larger items (including mattresses) the cost is $50. This is a useful add-on that is affordable and I think that many people will use it. My mattress was delivered within 3 days and the whole process was smooth. Communication was excellent and the courier was very polite. Overall, they offer a great service so no complaints from my side.

Is there a way to try this mattress?
This is a question that many of my readers ask me and I have good news for you. All HipVan mattresses come with a 100-night trial period that gives you more than 3 months to try them. If for any reason, you are not happy with your mattress, you can return it and they will give you your full money back. All returned mattresses are donated or discarded and HipVan will never re-sell them.
Additionally, you will get a 12-year warranty that will cover you for a really long time. This is one of the best policies in Singapore and only a handful of retailers offer it. Overall, this is a complete package and at this price, I didn't expect something more.
Is the Levitate mattress a good option?
It's time now to complete this HipVan Levitate mattress review and share my final thoughts with you. This mattress can be a great option for those looking for:
A comfortable mattress that has a pillow topper.
A hybrid mattress that is great for side and back sleepers.
A mattress that comes with a 12-year warranty.
If all these sound good to you, the Levitate mattress should be high on your list. HipVan managed to build a balanced mattress and at this price, this is an option that is hard to ignore.
FREE DELIVERY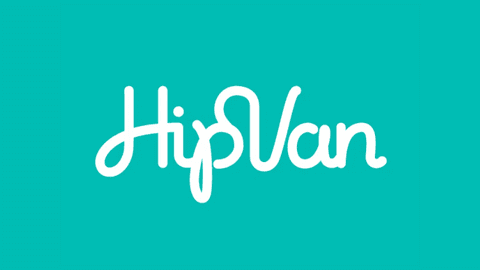 HipVan Mattress
Free delivery for all mattresses at HipVan
Free delivery for all mattresses at HipVan
Show Less
HipVan Levitate Mattress Review
PROS
Very comfortable
12-year warranty
Good edge support
CONS
Not great for front sleepers