In this Origin Hybrid duvet review, I will talk about this premium option from the German maker. The weather in Singapore demands high-quality bedding and the people at Origin know this very well. For this reason, they decided to create this duvet that is ideal for a hot and humid climate.
After reviewing the Origin Hybrid mattress, I was curious to try more of their bedding products so I went on and ordered an Origin duvet. About a week ago, it arrived on my doorstep so it's a good time now to move to the full review below.
Construction
This duvet is called a 'hybrid' because it combines two different types of filling. Inside it, there is 50% Natural Hungarian duck down and 50% Origin Refresh fibre. Both materials have certain properties that make them ideal to use in a duvet. For example, natural duck down is very light and it has one of the best warmth-to-weight ratios in the world. On the other hand, Refresh fibre has the ability to dissipate heat and wick moisture away. The combination works very well and this duvet is worth every penny.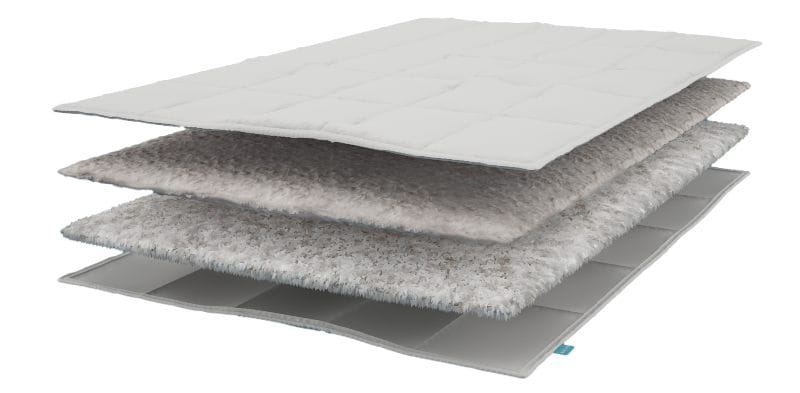 The cover is also a great one. It's made of Tencel which is a material that has a number of great properties. Firstly, it's very breathable and feels cool to the touch. Secondly, it's naturally antibacterial and hypoallergenic. That makes it ideal for those with sensitive skin. Finally, Tencel is eco-friendly as it's made from wood pulp. The cover feels soft and it features a baffle box construction. This ensures that the filling is evenly distributed which allows this duvet to perform better. Overall, this is a very well-made piece of bedding and the people at Origin did a great job here.
Design & Fit
The design of this duvet is a modern one. It features a white colour that looks very premium with a small branding badge on the side. As for the fit, the dimensions are accurate and that means this duvet will fit well into your cover. Moreover, the engineers at Origin have added loops in every corner that ensure the duvet stays in place. Overall, this is a beautiful cover that is also very practical.
Pricing
The Origin Hybrid duvet is available in 2 sizes. The smaller (Single) will cost you $200 while the bigger one (Queen &King) goes for $230. The difference is really small so you are better off with the bigger one. Moreover, Origin is a brand that runs frequent promotions so you will probably pay less than that. For instance, at the moment of writing, there was a 40% off promotion. In the table below, you can see the dimensions and the price of each size.
| | | |
| --- | --- | --- |
| SIZE | DIMENSIONS | PRICE |
| Single & Super Single | 150 x 230 cm | $200 |
| Queen & King | 200 x 230 cm | $230 |
Delivery & Service
Buying a duvet online can be a stressful task but don't worry, I have good news for you. The Origin duvet comes with a 7-night trial period so you can try it for a full week. After that, you can either decide to keep it or return it and get a full refund. If you decide on the latter, you will have to return it by yourselves (Origin's showroom). Besides that, you will also get a 2-year warranty and free delivery. This is a great package and it's amazing they offer this for a bedding product.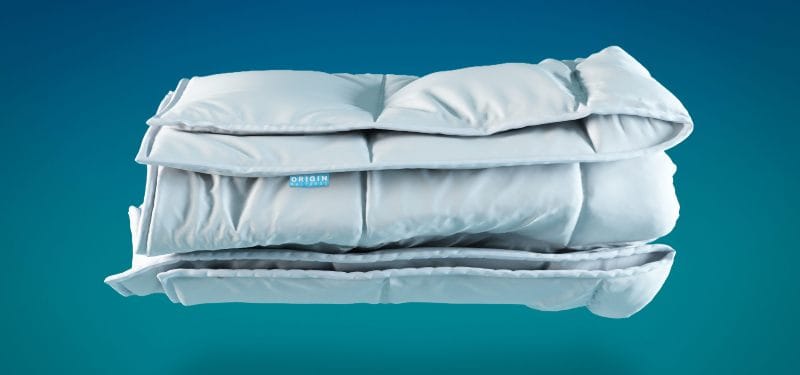 Verdict
The time has come now to complete this Origin Hybrid duvet review and share my final thoughts with you. This is a fantastic option for Singapore and this duvet is designed for this country's needs. It's made with high-quality materials, it's well-designed and it's fairly priced. For all these reasons, this is a duvet I highly recommend.
Origin Hybrid Duvet Review
PROS
Excellent materials
Great design
7-night trial period
CONS
Only 2 sizes available