Many readers ask me about getting a topper and whether this is a solution that will improve their sleep. In this Emma Flip topper review, I will talk about this excellent option from the German maker that can do all that but also extend the life of your old mattress.
As I have mentioned before, you should consider getting a topper only if your old mattress is structurally good and remains supportive. If that's the case, then a topper can add comfort and pressure relief. After loving my Emma Origin Hybrid mattress I decided to order a topper too. Mine arrived almost two weeks ago so I am ready now to move to the full review below.
Materials
The Flip Topper is very well-made and it impressed me with its quality. The outer cover is made of 99% polyester and 1% elastane. The former is a breathable and durable material that is easy to maintain. The latter ensures that the cover has a nice and tight fit. The combination works well and the people at Emma chose wisely here. The cover is removable and machine-washable and you just need to make sure that you use a gentle cycle at 40 degrees.
The core of this topper features two layers. These are:
An Airgocell foam layer that is known for its cooling properties. It also can provide your body with the needed pressure relief.
An HRX foam layer that can add support and take the pressure off your joints.
This topper has a medium loft and it measures 5cm. It's free from any harmful substances and it follows the OEKO-TEX® Standard 100. This is great and it says a lot about its quality.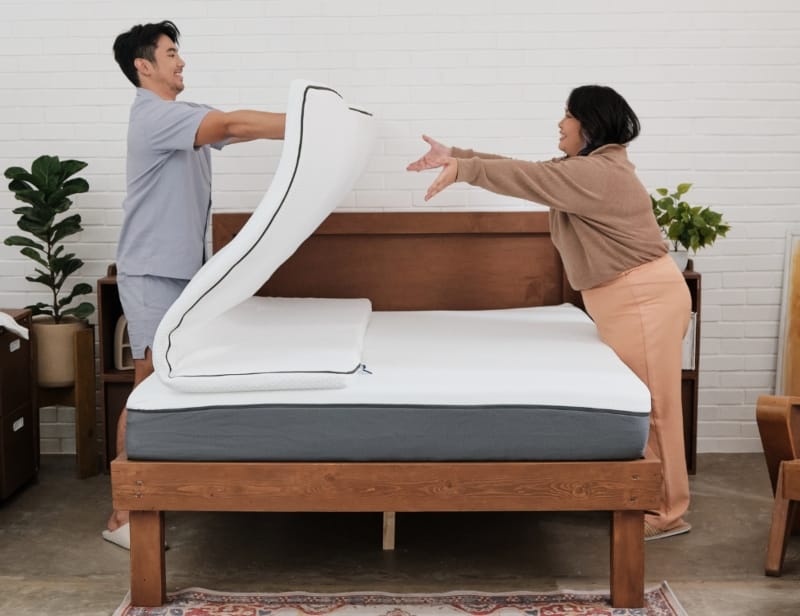 Support & Comfort
The main strength of this topper is that it's reversible. That means that you have two firmness options and according to your needs, you can choose the one that suits you best. If you prefer a softer feel, you should place the Airgocell layer on top but if you like a firmer feel, the HRX foam layer should be your sleeping surface. As I have mentioned before, this topper measures 5cm in height so it will increase the overall height of your mattress.
Both sides can provide your body with extra pressure relief but that is not the case when it comes to comfort. The softer side is less supportive but more comfortable and the opposite happens with the firmer side. In any case, the Emma Flip topper will do a great job and I was very happy with it. I have to mention here that I mostly slept on the firmer side.
Trial Period & Warranty
If you feel that buying a topper online is a risky decision, I have good news for you. All Emma toppers come with a 200-night trial period that gives you more than 6 months to try this at home. This is fantastic and it definitely takes all the risk away. If you are not happy with it, you can return it and ask for your money back. Moreover, the Flip topper comes with a 10-year warranty so you will be covered for a really long time. Overall, this is a complete package and it's very impressive that they offer all these at such a low price.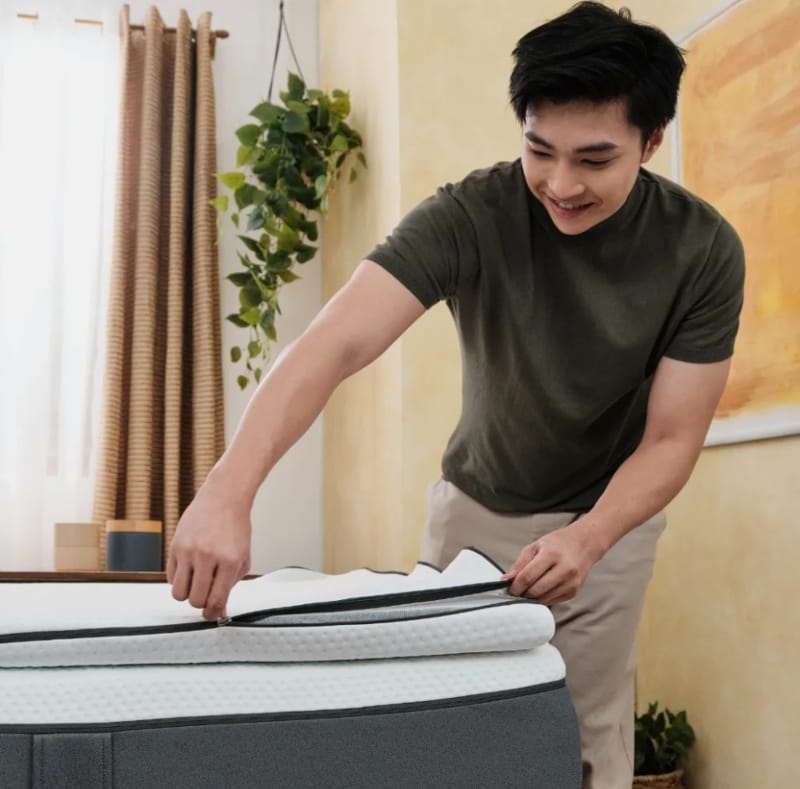 Pricing
The Emma Flip topper is available in 4 sizes so there are plenty of options for you. The smaller size (Single) costs $174 with the bigger one (King) selling for $274. The good news is that Emma runs frequent promotions so you will probably pay less than that. For example, I paid only $174 for a Queen-sized one. The table below features all the available sizes and their prices.
| | |
| --- | --- |
| SIZE | PRICE |
| Single | $174 |
| Super Single | $199 |
| Queen | $224 |
| King | $274 |
Is this a topper I should consider?
This is the question in everyone's head right now and I will try to answer it since I am ready to complete this Emma Flip topper review. In my opinion, this is a fantastic topper that gives sleepers two firmness options. It's made with great materials and it comes with an affordable price tag. All of these make it a winner, and this is a topper I can recommend.
PROS
2 firmness profiles
Excellent materials
200-night trial period
CONS
Cover design is boring