In this Emma One mattress review, I will talk about this value for money option from the German maker and whether it's one you should consider. After seeing great success with the Emma Original mattress, the people at Emma decided it was the right time to release a second option that is even more affordable.
The Emma One mattress follows the same design philosophy as its sibling so you should expect a foam-only mattress. As expected this one is packed and shipped inside a carton box. Mine arrived almost three weeks ago so it's a good time now to move to the full review below.
What is an Emma One mattress made of?
This mattress features 3 foam layers plus the cover. These are:
An Airgocell foam layer that has the ability to stay cool during the night. It also works as the first comfort layer and has the ability to minimize motion transfer.
A memory foam layer that will provide your body with the needed pressure relief. This type of foam can adapt to your body shape so your back and joints get a proper rest.
An HRX foam base layer that provides support and stability. Emma have added incisions in the pelvic and shoulder areas for better pressure distribution.
The mattress measures 18cm in height so it has a relatively low profile. The image below shows how each layer is positioned.

How good is the cover?
The cover of the Emma One mattress is made of two parts. The upper one is made of 100% polyester and the bottom part is made of 89% and 11% polypropylene. They used this blend for two main reasons. Firstly, polyester is a very breathable material and that means your mattress can breathe during the night. Secondly, polyester is very durable and will last for a long time. The cover is removable and you can pop it inside your washing machine whenever you want to clean it. Make sure that the temperature is not higher than 40 degrees.
On the sides, you will find 4 handles that will allow you to move this mattress with ease. Moreover, on the bottom part, they have added anti-slip elements that will keep this mattress in place. These are great features and it shows how much thought was put in during the design process. Overall, this is a great cover and the people at Emma did a great job here.
How firm is this mattress?
I want to continue now with this Emma One mattress review and discuss its feel. When designing it, they wanted to create a mattress that would suit all body types so this one has a medium-firm feel. If I use my virtual scale here, I would say it's a 6.6 with 10 being really firm. Let's talk now about the different sleeping positions and how this mattress performed.

Starting from the back position, the mattress handled my weight well and support was great. The foam layers helped my spine to align properly and I was comfortable in this position
Turning to the side position, the mattress reacted quickly but I felt that my spine alignment could be better. The sleeping surface didn't cause any discomfort in the hips area and that is important. Support was good and again, the mattress distributed my weight evenly.
Finally, turning to the stomach position, the Emma One did an excellent job with my hips and shoulders. The firmness is ideal for this position and support was great. Overall, I feel that this mattress will mostly suit back and front sleepers but also side sleepers that don't weigh a lot.
The Emma One mattress is designed for couples so you should expect minimal motion transfer. On the other hand, the edge support is not the best but this is something expected from a mattress of this kind.
Is there free delivery?
Boxed mattresses were created to cut costs and the Emma One obviously falls into this category. If you order from them, you will get free delivery that usually takes 2-5 working days. They work with two great companies (Janio & Lalamove) so you should expect a good service. In my case, the whole process was smooth and communication was great. The box is not too heavy so you will be able to move it by yourself. Once you set it up, make sure you leave it for a couple of hours so it decompresses. After that, it will be ready to be used. Overall, they offer a good delivery service so no complaints at all.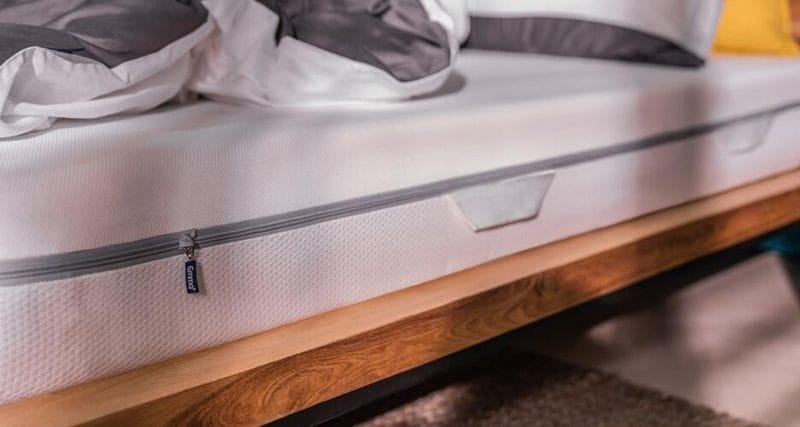 Can I try it first?
If you decide to buy an Emma mattress, you will get a 100-night trial period that gives you more than 3 months to try this mattress and decide later whether you want to keep it or not. If you don't like this mattress, you can return it and get a full refund. They have a 'no questions asked' policy so they will come to pick it up for you and give you a full refund. The process is not a complicated one and that makes things really simple. Besides that, you will also get a 10-year warranty that will cover you for a long time. For more details, you can visit their warranty page. Overall, this is a complete package and it's something I expected from a company like Emma.
How much will I pay for it?
The Emma One mattress was built to be an affordable mattress and that is reflected in their pricing. The smaller size (Single) sells for $399 with the bigger one (King) going for $699. The even better news is that they run frequent promotions so you will probably pay even less than that. The table below has pricing information for all available sizes.
| | | |
| --- | --- | --- |
| SIZE | DIMENSIONS | PRICE |
| Single | 190 x 90 x 18cm | $399 |
| Queen | 190 x 150 x 18cm | $599 |
| King | 190 x 180 x 18cm | $699 |
Should I buy the Emma One mattress?
I will try to answer the above question now that I am about to complete this Emma One mattress review. I think that this mattress would be ideal for those looking for:
A value for money mattress from a popular maker.
A foam-only mattress that is great for back and fron sleepers.
A mattress that comes with a 100-night trial period.
If the above features are what you are looking for, the Emma One mattress should be high on your list. At this price point, it's really difficult to find a better alternative and Emma did a great job here. For me, this is money well spent so I highly recommend it.
PROS
Great value for money
100-night trial period