If you look for a value for money option, you should probably read my Noa Lite mattress review. After reviewing the popular Noa mattress, I was really curious to try their more affordable mattress. For this reason, I decided to order the Lite mattress.
Noa is one of the most popular makers in Singapore, and they have seen great success in a number of countries. They design hybrid mattresses that come with affordable price tags and that is one of the main reasons that they are so popular among sleepers. My Noa Lite arrived almost a week ago, so I would like now to move to the full review below.
What is inside the Noa Lite mattress?
The Noa Lite mattress features 4 layers plus the cover. These are:
A cooling gel memory foam layer that has excellent pressure-relieving properties. This type of foam can wick moisture away so the sleeping surface can stay cool during sleep.
A transition foam layer that is designed to minimize motion transfer. Moreover, this layer connects the upper foam layer with the pocket springs.
A pocket springs layer that can provide your body with the needed support. This type of pocket spring allows airflow which helps the mattress to stay cool.
A perimeter edge support foam layer that does what it promises. This additional frame also improves the overall durability of this mattress.
The Noa Lite measures 25cm in height and the image below showcases the position of each layer. All foams used here come with the REACH certification and that means that they contain no harmful substance.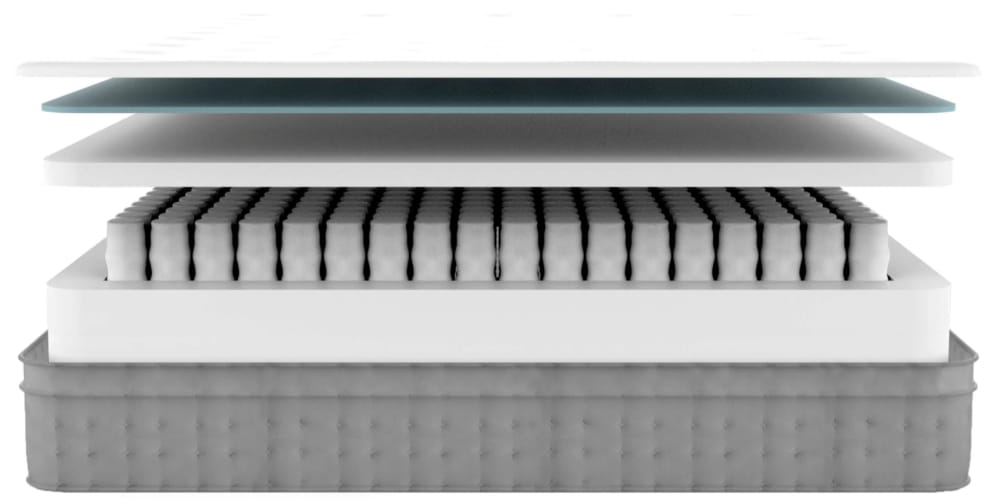 What is the cover made of?
During the design process, the people at Noa wanted to add a premium character to this value-for-money mattress. For this reason, they decided to use a Tencel cover that has a number of great properties. Firstly, it's very breathable and that will help your mattress to stay cool during the night. Secondly, Tencel is naturally antibacterial and hypoallergenic. This makes it a great choice for people who suffer from allergies or have sensitive skin. Finally, Tencel is an eco-friendly material that is made of wood pulp.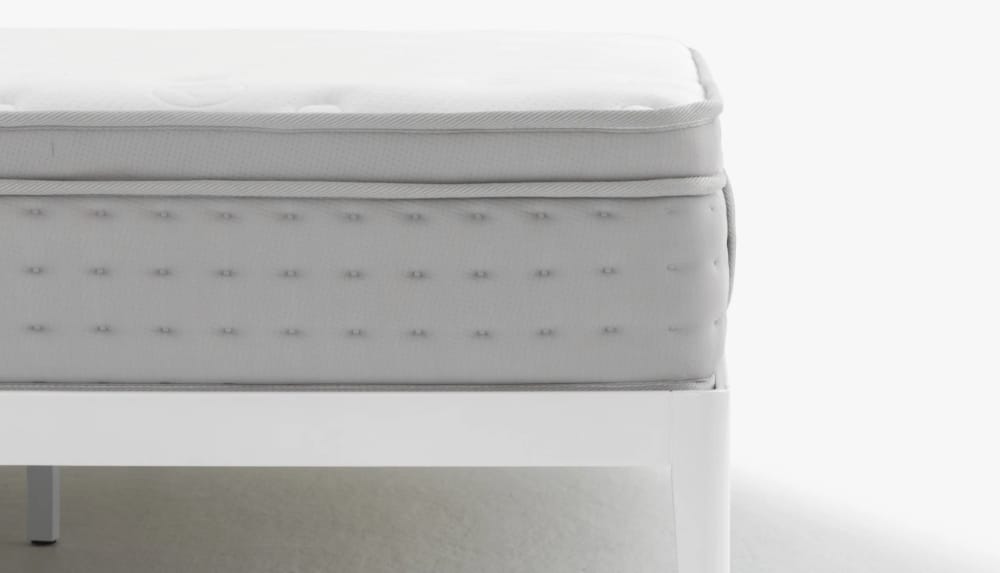 The cover feels soft and it looks of great quality. It comes in a light grey colour that looks very modern and it's probably my favourite style. On the sides, you will find 4 handles that will help you move it when that is needed. The only downside here is the fact that this is not a removable cover so you cannot machine wash it. Other, than that, this is a fantastic cover and it's great to see in such an affordable mattress.
How does this mattress feel?
It's time now to continue with this Noa Lite mattress review and discuss its feel. When designing this mattress, they decided to create a firm mattress. If I use my virtual scale here, I would say it's a 7.5 with 10 being really firm. Let's see now how this mattress performed in the different sleeping positions.

Starting from the back position, the mattress felt very supportive and I enjoyed the firmer feel. My spinal alignment was correct and overall I was comfortable in this position.
Moving to the side position, the sleeping surface felt firmer than what I would have liked but it wasn't anything too bad. Sinkage increased but I felt that a softer mattress would better suit this position.
Finally, turning to the stomach position, the Noa Lite felt perfect. My hips and shoulders were well supported and overall, I think that this mattress is ideal for back and stomach sleepers. If you are a side sleeper, you should look elsewhere.
If you have a partner, this mattress is designed to minimise motion transfer so it can be a great choice for couples. Additionally, the edge support is great so you will get in and out of bed with ease.
Is this a boxed mattress?
All Noa mattresses are rolled ones and they will be delivered inside carton boxes. They sell their mattresses directly to consumers and this way, they have managed to cut costs. This is the reason mattresses like this one come at affordable prices. All mattresses come with a free delivery service that is relatively fast. They dispatch their mattresses within 3-4 working days and in my case, I got my mattress within 5 days from the moment I placed my order. The whole process was very smooth and I was well informed about the delivery time and date. Overall, I had a great experience with them and they did a great job here.

Can I try it first?
Most boxed mattresses come with a trial period these days and the Noa Lite is not an exception. If you decide to buy one, you will get a 120-night trial period that gives you plenty of time to try it and decide later whether you want to keep it or not. In case you want to return it, you can do this for free and all you have to do is contact their customer service department. The process is simple and you don't have to keep the original packaging to have the right to claim a return.
Besides that, Noa offers a 15-year warranty that will cover you for a long time. Most other makers offer 10-year warranties so this is an area where Noa excels. Their warranty page has all the information about their policy so before you buy a mattress from them you should probably read it. Overall, this is a great package so no complaints at all.
Is this an expensive mattress?
If you want to buy the Noa Lite mattress, you have a number of options. The smaller size (Single) costs $599 with the bigger size (King) selling for $899. However, Noa is a maker that runs frequent promotions so you will probably pay less than that. For example, at the moment of writing, there was a $250 off promotion. To find out more about the available sizes and their prices, you should look at the table below.
| | | |
| --- | --- | --- |
| SIZE | DIMENSIONS | PRICE |
| Single | 91 x 190 x 25 cm | $599 |
| Super Single | 107 x 190 x 25 cm | $699 |
| Queen | 152 x 190 x 25 cm | $799 |
| King | 183 x 190 x 25 cm | $899 |
Who should buy this mattress?
It's time now to complete this Noa Lite mattress review and share my final thoughts with you. I think that this mattress would be ideal for those looking for:
A hybrid mattress that is great for back and stomach sleepers.
A value-for-money mattress with a firm feel.
A mattress that comes with a 120-night trial period.
If you look for all these, the Lite mattress should be a choice to consider. What I liked most about this mattress is that you will be getting excellent value for your money and this is hard to find. If you have a tight budget and you look for a high-quality mattress, this is the one to go.
PROS
Great for the front and back position
Good edge support
120-night trial period
CONS
Cover is not removable