If you look for ways to improve the way you sleep, you should read the Peace Lily Latex pillow review. After releasing the Kapok pillow, the engineers at Peace Lily decided to create a latex pillow. The latter is the firmer of the two so if this is what you look for, keep reading.
The Latex pillow is a big one measuring 74 x 43 x 12.5cm. That means that you will need queen-sized pillowcases. If you decide to buy one, you will get free delivery and a 100-night trial period. This will give you more than 3 months to try this mattress and decide later whether you want to keep it or not. If you are not happy with it, they will give you your money back so feel safe to purchase this pillow. Mine arrived ten days ago so let's move now to the full review below.
Construction
This pillow comes with a design that is also used by other makers. You should expect a single piece of foam that is made of 100% natural latex. They decided to use this material as it comes with a number of properties. Firstly, it has the ability to regulate your body's heat which means that it will stay cool during the night. Secondly, natural latex has pressure-relieving properties but it's also very durable. That means that this pillow will last for years.
The Peace Lily Latex pillow is designed for support and according to the makers, it can outperform memory foam. Besides that, the engineers at Peace Lily drilled holes which further improve the airflow. As you see, this is a well-designed pillow and that really impressed me. It's free from any harmful substances and it's eco-INSTITUT certified. Overall, this is a high-quality construction and I felt that they did a great job here.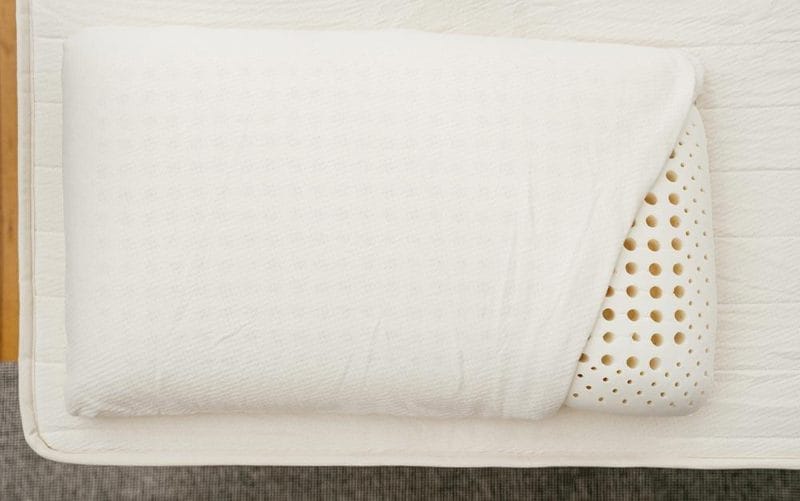 Cover
The cover of this pillow is a simple one and it's made of 100% organic cotton. One of the main reasons that they decided to use this material is the fact that organic cotton is natural and it's skin-friendly. Peace Lily decided to use GOTS-certified cotton to ensure that the quality is up to their standards. Organic cotton is breathable but it's also easy to clean and maintain.
The design is a plain one so don't expect any colour as they wanted to reduce the manufacturing processes to a minimum level. The cover feels soft and it looks of great quality. As you expect this is a removable cover and there is a zip on the side. Overall this is a cover that will do the job so no complaints at all.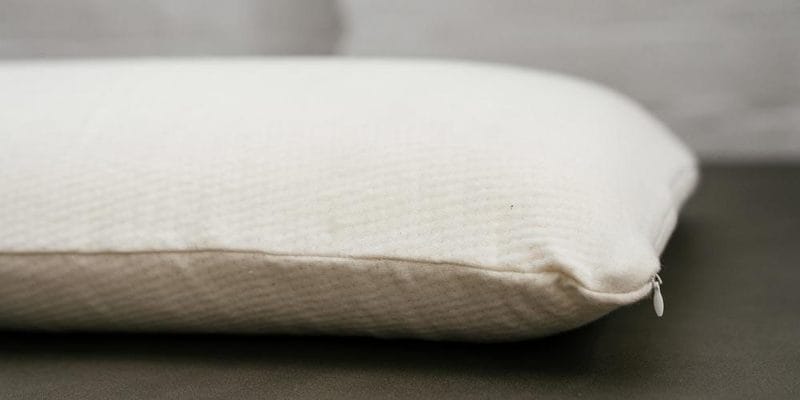 Support
Before you choose your next pillow you should first consider one important factor; your preferred sleeping position. Based on that you can then choose the pillow that best suits you. The height of the pillow is one of the most important things and the Peace Lily Latex measures 12.5cm in height. That means it comes with a medium-high profile so it will be best suited to back and side sleepers. If you are a stomach sleeper you should probably look at the Kapok pillow.
The latex foam is very supportive and after using it for some time, I felt that it did a pretty good job with my head and neck. Moreover, pressure relief was great and overall this can be a great option providing that you're not a front sleeper.
Is this pillow worth my attention?
I am ready to complete this Peace Lily Latex pillow review and I will do my best to answer the above question. In my view, this pillow would be great for anyone looking for:
A latex pillow that comes with a firm feel.
A cooling pillow made with natural materials.
A pillow that comes with a trial period.
If you look for all the above, the Latex pillow should be high on your list. It's very well-made and at this price, it's hard to go unnoticed.
Peace Lily Latex Pillow Review
PROS
Very supportive
Excellent materials
100-night trial period
CONS
Not suitable for front sleepers