If you look for an easy way to improve your sleep, you should definitely read my Emma Foam pillow review. The popular German maker recently released this adjustable pillow and I was really curious to try this out. As you know, I am already a big fan of the Emma One mattress so it was normal for me to want to try this pillow.
During the design process, the engineers at Emma decided that they wanted to give more options to sleepers so they created a modular pillow. The pillow measures 70 x 40cm and if you decide to buy one, you will get a 100-night trial period. This is something that we don't see frequently and Emma shows here how much they value their customers. Delivery is free and it usually takes 2-5 working days. Mine arrived almost 2 weeks ago so let's move now to the full review below.
Construction
This pillow features 3 foam layers that you can use to form the ideal pillow for your needs. The first one is an adaptive viscose foam layer that is the firmer of the three layers and has the ability to distribute weight evenly. The second one is an Airgocell foam layer. This is one of their signature materials that can provide your neck and head with the needed pressure relief but can also stay cool during the night. Finally, the third layer is a viscose foam layer that has excellent contouring properties.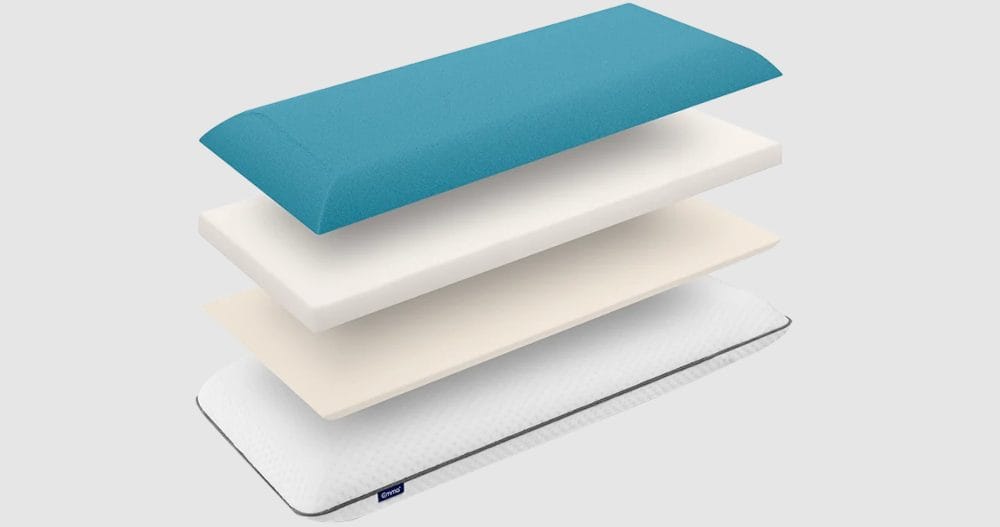 All the materials used to make this pillow comply with the OEKO-TEX® Standard 100 which means that they contain no harmful substances. This is very important and it shows that the people at Emma want the best for their customers. Overall, this is a well-made pillow so no complaints at all.
Cover
The cover of this pillow is made of polyester but they also added 2% elastane to secure a better fit. They decided to use this material because it has a number of properties. To begin with, polyester is a breathable material and that means that this pillow will sleep cool even during the hot summer months. Secondly, polyester is a durable material so you will be able to enjoy this pillow for a really long time. Finally, polyester is easy to clean and all you have to do is pop this cover inside your washing machine whenever you want to clean it. I personally like to do so three times a year.
The design is a beautiful one and this pillow looks premium. The cover feels soft and Emma managed to do a great job with it. Overall, this is a high-quality cover that will last for a long time.

Support
I have already mentioned above that this is an adjustable pillow. That means that you can use different foam inserts to create a pillow that suits your sleeping style. To get an idea of the different combinations, you can have a look at the image below. For example, if you prefer to sleep on your stomach you might need to use only one insert.
I spent some time experimenting with the different combinations and I felt that the pillow worked well in every sleeping position. The foams felt supportive and my head and neck were well-rested every morning. Emma managed to build a great adjustable pillow so if you are looking for a customised experience, this is one you should consider.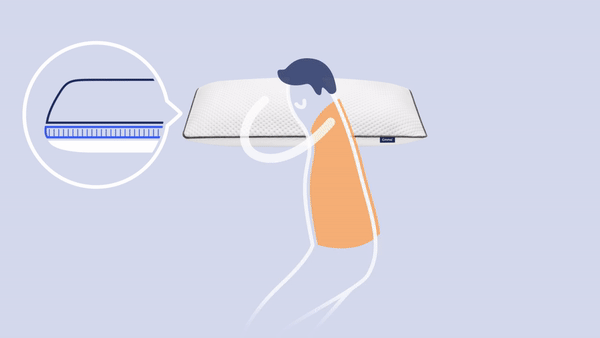 Should I buy this pillow?
This is the question I need to answer now that I am about to finish this Emma Foam pillow review. In my opinion, this pillow would be great for those looking for:
An adjustable pillow for a customised experience.
A well-designed pillow made with high-quality materials.
A pillow that sleeps cool even during the summer.
If you look for all these, you should definitely consider getting the Emma Foam pillow. It's very well-designed and it comes with a 100-night trial period. Do you need more than that? I don't and I highly recommend it.
PROS
Adjustable height and feel
Excellent cooling system
100-night trial period
CONS
Not the cheapest in the market