If you look for a premium option, you should definitely read my Noa Luxe mattress review. After reviewing the Noa Lite and Noa mattress, I was really curious to see what they did with their more premium offering.
Noa is a Canadian maker that launched in Singapore a few years back. Since then, they have seen great success selling boxed mattresses that present great value for money. My Noa Luxe mattress was delivered almost a week ago so it's a good time now to move to the full review below.
What's inside a Noa Luxe mattress?
The Noa Luxe mattress features 6 layers plus the cover. In detail, these are:
A cooling memory foam layer with excellent pressure-relieving properties. This type of foam is designed to stay cool during the night.
A bamboo charcoal latex foam layer that can provide your body with extra comfort. This type of foam has the ability to absorb excess moisture and repel odours.
A layer made of micro-coils that help with both comfort and support. They are also designed to allow airflow which is important for every mattress.
A transition foam layer that connects the upper layers with the pocket springs. This type of foam has the ability to minimize motion transfer.
A pocket springs layer that features a 5-zone system. This promises to provide your body with tailored support.
A high-density foam encasement that massively improves the edge support.
This mattress measures 31cm so you should expect a high profile. All foams used to make this mattress come with the REACH certification which means they contain no harmful substances. In the image below, we can have a better look at the inside of this mattress.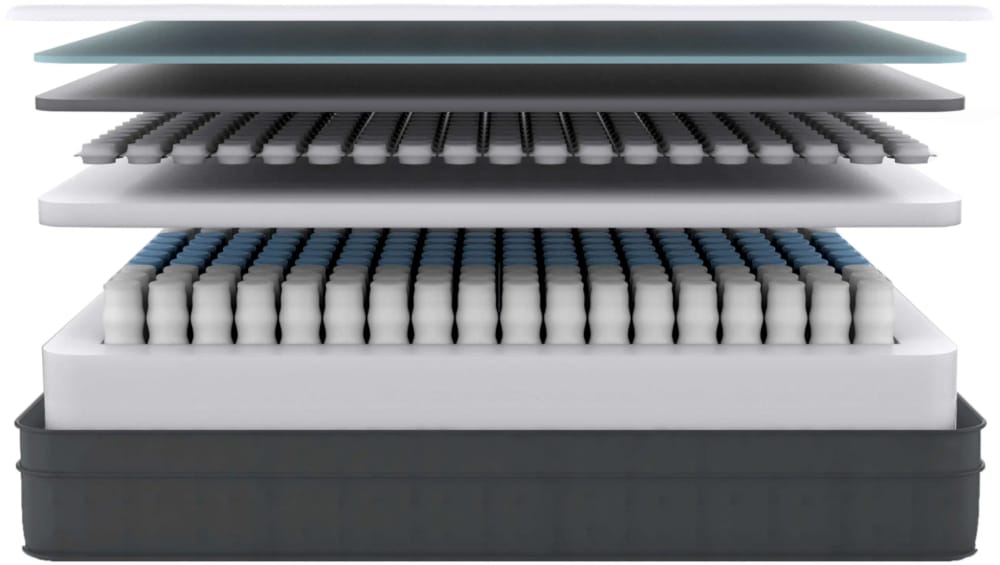 What is the cover made of?
If you want to build a premium mattress, you need to make sure that you use high-quality materials. For this reason, they decided to use Tencel here which is one of the best materials out there. If you have never heard of this material, you need to know three main things about it. Firstly, Tencel is an eco-friendly material that is made from wood pulp. Secondly, it's a very breathable material that will help the sleeping surface stay cool during the night. Finally, Tencel is naturally antibacterial and hypoallergenic. That means that if you suffer from any allergies or you have sensitive skin, this is a material that you should consider.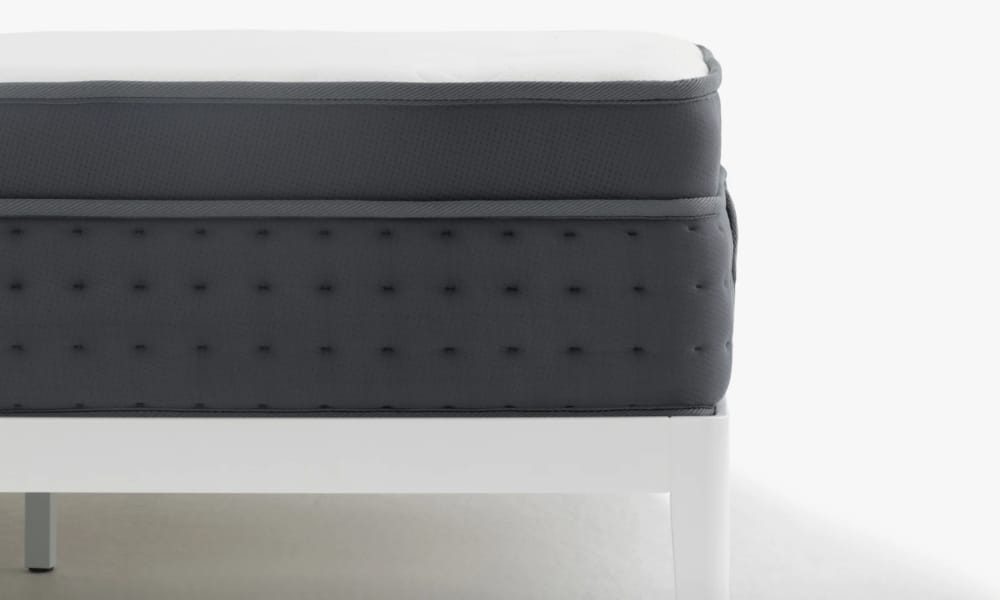 The design of the cover is a classy one and it's very similar to the ones we have seen in the other two Noa mattresses. However, this is the darkest of the three and in my opinion, it looks very premium. On the sides, they have added 4 handles which are very useful wherever you want to move your mattress. Unfortunately, this cover is not removable so if you want to clean it, you should use a cloth with mild detergent. Overall, this is a fantastic cover that won't disappoint you.
Is this a firm mattress?
It's time now to continue with this Noa Luxe mattress review and talk about its firmness. Most boxed mattresses come with a medium-firm feel but this one is slightly firmer than the average one. If I use my virtual scale here, I would say it's a 7 with 10 being really firm. Let's talk now about the various sleeping positions and how this mattress performed.

Starting from the back position, the mattress felt very comfortable and the upper layers provided my body with the needed pressure relief. Support was great and the zoned system did a pretty good job.
Moving to the side position, the mattress reacted quickly and sinkage increased. My spinal alignment was correct and the mattress didn't cause any discomfort in the hips area.
Finally, turning to the stomach position, the mattress firmness was ideal for this position and I was very comfortable sleeping this way. The mattress supported my hips and shoulders and my spine was properly aligned. Overall, this is a great all-rounder and it's a mattress that will suit all sleeping positions.
If you share your bed with a partner, this mattress is designed to minimize motion transfer so it can be a good choice. In addition, edge support is great which is very important, especially if you are a couple.
Will it come packed in a box?
It's already mentioned above that this mattress is a boxed one and Noa ships them directly to your door. If you decide to buy one, you will get free delivery for all sizes. Their service is a relatively quick one and they dispatch their mattresses within 3 to 4 working days. I am located in the central district and I got my mattress within 4 working days. Communication was great and the courier was prompt and polite. Overall, I am happy with their service so no complaints at all.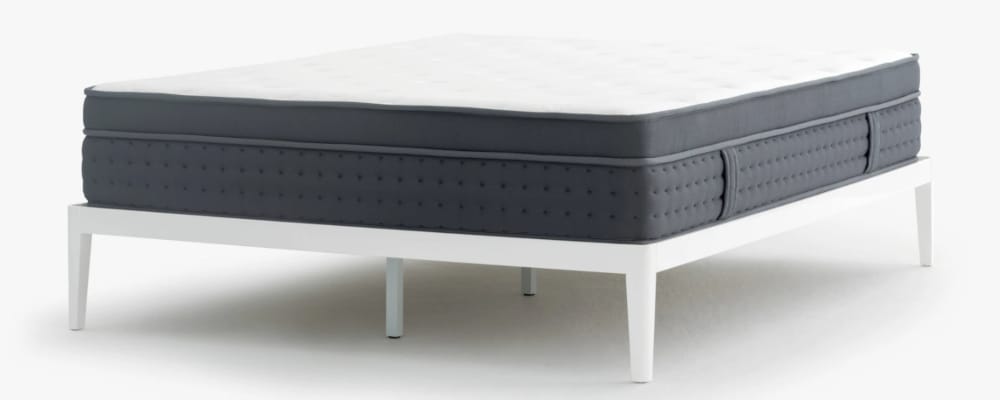 Does it come with a trial period?
If you feel nervous about buying a mattress online, I have good news for you. All Noa mattresses come with a 120-night trial period that allows you to try this mattress first and decide later whether you want to keep it or not. In case, you are not happy with it, you can return it and get a full refund. The process is not a complicated one and after you contact them, they will arrange everything for you.
Besides that, you will also get a 15-year warranty which is a big deal. This shows how confident they are about their products but also how much they value their customers. If you are keen to find out more about it, you should visit their warranty page. Overall, this is a fantastic page and definitely one of the best in Singapore.
How much does it cost?
The Noa Luxe is the most premium mattress in their range but that doesn't mean that you have to pay a fortune to get it. The smaller size (Single) will cost you $999 with the bigger (King) selling for $1,599. I need to mention here that they run frequent promotions so probably, you won't pay retail prices. For instance, at the moment of writing, there was a $250 off promotion. The table below has pricing information for all available sizes.
| | | |
| --- | --- | --- |
| SIZE | DIMENSIONS | PRICE |
| Single | 91 x 190 x 31 cm | $999 |
| Super Single | 107 x 190 x 31 cm | $1,099 |
| Queen | 152 x 190 x 31 cm | $1,399 |
| King | 183 x 190 x 31 cm | $1,599 |
Is this a good buy?
This is the question that I need to answer now that I am about to complete this Noa Luxe mattress review. In my opinion, this would be a good choice for everyone looking for:
A hybrid mattress that is designed for all sleeping positions.
A premium mattress that is ideal for couples.
A mattress that comes with a 120-night trial period.
If you look for all these, the Luxe mattress is an option you should consider. This is definitely one of the most complete mattresses I have reviewed and if you have the budget for it, you should have it very high on your list.
PROS
Great for all sleeping positions
Excellent cooling system
120-night trial period